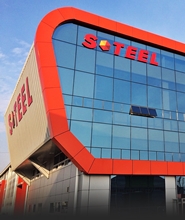 S-TEEL
CI

Satisfaction

Customer Satisfaction is the best value for S-teel.
It is related with the best quality, reasonable cost and the punctual delivery.
Love

We always put people first to make our workplace harmonious and safe.
Positive

we believe the power of positive thought.
It makes us confident to accomplish anything.
Think

We look far ahead into the future all the time.
We always make a step forward with enterprising and creative thought.
Honest

We always try to get customer's and society's trust
with keeping our promises and highly reliable product quality.
Eco-Friendly

We always care about the environment and the future.